EDEN CHURCH is a member of the Evangelical Alliance and an increasingly active supporter of Tearfund. Tearfund is The Evangelical Alliance Relief FUND and is a UK Christian relief and development agency, passionate about ending poverty working in over 50 countries worldwide.
"When a community lifts itself out of poverty, everything changes. Poverty does more than exhaust, starve, trap and kill people. It destroys their sense of worth, limits their horizons, robs people of the chance to reach their full potential. Tearfund's call is to follow Jesus where the need is greatest. We long for new life and a new sense of worth for people. We do whatever it takes to end poverty and rebuild poor communities. We work through local churches, because they're Jesus' body on earth, ready to care for the whole person – and the whole community – inside and out."
Please visit and browse the Tearfund Web Site, particularly the "ABOUT US" section for an introduction to what we care about and how.
TearFund celebrates it's 50th year in 2018 and throughout this "year of jubilee" will be focusing generally on the biblical themes of restoration and release from poverty and in particular on the Democratic Republic of Congo.
TearFund@EdenChurch
Christmas 2017
Our Carol Service "bucket collection" raised over £300 for the Central African Republic "Double Donation" Appeal which with Our Gift Aid and the Governments matching totalled a little under £750 for TearFund.
Mean Bean Time 2018
Yes folks its Mean Bean Time . Margaret will again be taking up this FUNd-raising challenge and welcomes any other "MeanBeaners" who care to join her and of course folk to sponsor her!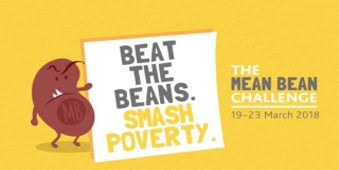 Bottle of Waterloo
April 18th – June 18th is the "Bottle of Waterloo". A "spend a twenty" home bottle collection in aid of Toilet Twinning (Tearfund's Water/Sanitation Programme). With weekly Good, Bad + Q.I. facts on worldwide sanitation and Waterloo as reminders, culminating on the anniversary of the famous battle.