EDEN CHURCH is a member of the Evangelical Alliance and an increasingly active supporter of Tearfund. Tearfund is The Evangelical Alliance Relief FUND and is a UK Christian relief and development agency, passionate about ending poverty working in over 50 countries worldwide.
Please visit and browse the Tearfund Web Site, particularly the "ABOUT US" section for an introduction to what we care about and how.
From the Tearfund website:
"When a community lifts itself out of poverty, everything changes. Poverty does more than exhaust, starve, trap and kill people. It destroys their sense of worth, limits their horizons, robs people of the chance to reach their full potential. Tearfund's call is to follow Jesus where the need is greatest. We long for new life and a new sense of worth for people. We do whatever it takes to end poverty and rebuild poor communities. We work through local churches, because they're Jesus' body on earth, ready to care for the whole person – and the whole community – inside and out."
Tearfund are currently focusing on World Hunger and in particular the plight of rural communities throughout the Sahel (the band of increasingly arid sub-saharan countries stretching across the widest part of Africa from Senegal to Ethiopia ) for whom the" Hunger Gap" – the months between finishing last years food harvest and gathering in this years – is going to be the hardest and longest in living memory.
Fittingly this year for 5 days during Lent (Mar 27 – Mar31) we are being challenged to experience the taste of hunger for ourselves by taking up the Mean Bean Challenge and inviting non-participants to sponsor at least ONE of those folk brave enough to commit to a 5 day diet of just Rice. Beans & Water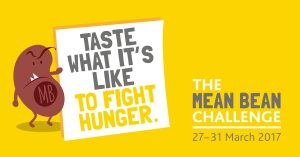 Sign up page for the Mean Bean Challenge
Before that – the 2nd Sunday of Lent (March 12th) will be a Tearfund Sunday at Eden
And before THAT- March 1st is Ash Wednesday so why not subscribe to Tearfunds  Reflections for Lent – Living Water and receive brief but challenging updates and prayers from around the world on the theme of "Living Water" daily in your inbox.